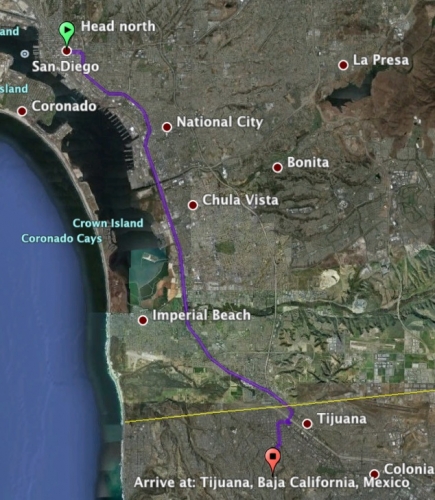 Our Tijuana clinic boasts highly trained fertility specialists and is one of the most reputable and modern facilities in Mexico offering a cultured, all-encompassing fertility care infrastructure.
Patients can travel to San Diego, California to and from the Tijuana Fertility Clinic for IVF treatment. Our patients also have the option to travel directly to Tijuana, Mexico. Our compassionate fertility coordinators can help you with accommodations.
Arriving to San Diego — California
Located in the southern coastal region of the state of California, San Diego is the second largest city in California and the eighth largest city in the United States. San Diego is known as 'America's Finest City' and is renowned for its stunning year round climate, vast array of astonishing beaches and an expansive variety of attractions, such as Sea World, San Diego Zoo, Rock Spa, and Balboa Park and Ocean Beach.
From world-renowned attractions to award-winning restaurants, you're sure to find a host of things to entertain and inspire you on your fertility journey through San Diego.
Conveniently located just ten minutes from downtown San Diego and serviced by 22 major and commuter airlines including non-stop flights from Japan and the UK, San Diego International Airport, receives more than 16 million passengers a year.
Recommended Accommodations
Travel Lodge San Diego – (619) 297-2271
Super 8 Motel – (619) 575-4421
Holiday Inn Express San Diego – (619) 226-8000
Arriving to Tijuana — Mexico
Tijuana is located in the northwest of Mexico, at the north end of the Baja California Peninsula, and it is close to the USA border.  San Diego is just 29 miles north of the Tijuana.
Tijuana is a modern city filled with artistic cultural details and local attractions such as the Lala Group, Agua Caliente Racetrack, and Tijuana Wax Museum and the amazing Revolution Avenue and Salinas Group.
Tijuana International Airport, also known as General Abelardo L. Rodríguez International Airport, is located just south of the Mexico – U.S. international border and several miles east of the Tijuana city center. The airport serves passengers throughout Northern Baja California and U.S. residents looking for less expensive flights to Mexico.
Recommended Accommodations:

Hotel Real Del Rio
Hotel Hacienda Del Rio
Real Inn Tijuana
City Express Tijuana Rio
Get a free quote from Tijuana Fertility Clinic
Once you click the button you will receive your quote in your email within a few minutes and we will never spam you.